In the world of AI research, scientific computing, and cryptocurrency mining, access to powerful GPUs (Graphics Processing Units) can mean the difference between breakthroughs and stagnation. However, sourcing these essential resources in a saturated market can be a daunting challenge. Yet, with the right strategies, access to powerful GPUs, even in times of scarcity, is a feat within reach. This article explores practical ways to overcome market shortages and tap into the power of high-performance GPUs.
Understanding the GPU Market
To get a clear picture of the challenges in obtaining powerful GPUs, it is crucial to first comprehend the forces driving the market. Demand for GPUs has soared in recent years due to their versatility and increased applications in various fields, including gaming, AI, and data analysis. Simultaneously, supply chain disruptions and production issues have led to limited availability, causing severe GPU shortages in the market.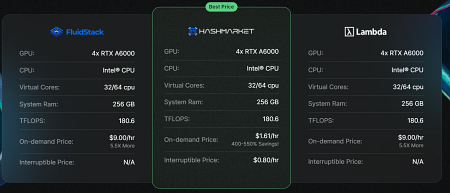 1. Leverage Cloud-Based GPU Services
Tap into Big Tech's Cloud Resources
When physical GPUs are in short supply, cloud-based solutions can be an excellent alternative. Big tech companies like Amazon, Google, and Microsoft offer cloud services that provide on-demand access to high-performance GPUs. Services such as AWS EC2, Google Cloud's GPU, and Microsoft Azure's NV instances come with powerful GPUs that can handle intensive tasks efficiently.
Explore Emerging Cloud Providers
In addition to these big players, emerging cloud providers like Paperspace, IBM Cloud, and Oracle Cloud also offer robust GPU services. They often come with competitive pricing and unique benefits that cater to specific use cases.
2. Utilize GPU Rental Platforms
Various platforms allow users to rent GPUs from others, offering a cost-effective and flexible alternative. Services like Vast.ai and GPUHub offer marketplace-style platforms where individuals and businesses can rent out their unused GPUs to those who need them. These platforms also often offer scalability, letting you choose the amount of power you need and for how long, which can be beneficial for one-off or irregular tasks.
3. Embrace GPU Sharing and Collaborative Solutions
Institutes and businesses can leverage the power of GPU sharing to combat scarcity. Instead of having dedicated GPUs for each user, multiple users can share the power of a single GPU, thereby ensuring maximum utilization. Software solutions such as NVIDIA Multi-Instance GPU (MIG) and Bitfusion offer the ability to share GPU resources among multiple users without significant performance drops.
4. Build and Join Mining Pools
Cryptocurrency miners can opt to join or create mining pools, where the processing power of multiple GPUs is combined to solve complex problems. This collaborative effort not only mitigates the effects of GPU scarcity but also increases the probability of earning rewards.
5. Stay Ahead with Pre-orders and Waiting Lists
For those set on owning their GPU, staying ahead of the crowd is vital. Pre-order upcoming GPU models or join waiting lists at local and online retailers. Keeping an eye on tech forums and social media channels dedicated to GPUs can provide useful insider information on availability and restocks.